A Haiku to Ruby Woo
Pulse Paused. Heart Stopping.
Breath stolen, eyes are watching.
Wink. Smile. Lips poppin'.
An ode to lipstick? Why not?! Lipstick is literally my

favorite

part of being a woman, and my even favorite-er cosmetic! Mascara runs, lip glosses leave permanent clothing stains, and don't get me started on how the foundation smudges on my Android leave people thinking that the

brown

residue is some type of secretion from my dirty pores.
we pay our dues to

rouge

, highlighting the hottest hues of Fall/Winter 2015!
(Can you believe September issues will be on shelves in just a month?)
When you want your eyes to do the talking and your lips be but a whisper, go nude. Keep in mind that nude shades vary depending on your skin tone, so your bronzy BFF from Brazil might not be able to loan you lipstick if you're fresh off the lodka from Moscow. The trick to pulling off a nude lip is by lining the lips with a pencil two shades darker than your skin, then filling it in with a lipstick that's one shade lighter. Complete the look with a beige-ish lip gloss to keep you from looking severely dehydrated.
And you said you didn't look good naked...smh
For fair skin, try Yves Saint Laurent Rouge Volupte in Nude Beige. $34 yslbeautyus.com
For Medim skin tones, try Chanel Rouge Coco Shine in Conother.
$32.50 Chanel.com
Girl, you just got
RED
It's alluring, its the color of love, and it's timeless! Your mama's mama's mama's mama wore it when she met your great-great grandfather, and BAM! You're here reading this blog! You litterally owe your life to

rouge

! The best way to rock red is by first applying the lipstick without lip liner. Blot your lips on a tissue, then line your lips using a nude lip pencil.
The nude liner keeps the red lipstick from bleeding into the skin around your lips, which is common with red lipstick. Finally, apply one last layer, and you're ready to join the ranks with your great-grands and pro-create a new generation! To spare you the break down of skin tones, I'm only recommending one lipstick: Ruby Woo. I've never seen this shade look bad on anyone. EVER.
(Scroll up to re-read my def poetry jam haiku homage, then click here for my blog breakdown on red lipstick).

The Black Bug Bled Black Blood
Imagine how sexy and demure your lips would look mouthing that line again and again in a dark shade of lipstick. Notice I said dark, not black. Shadowy hues of deep

burgundy

,

purple

, and

blackberry

are back again this fall to cast an air of mystery on your already chic style. You want to apply dark shades with a lip brush for precision, starting from the outer corner of the mouth to the center of your upper and lower lips. As with red, line last. I like a dark matte lip, but I've been known to dab a little Bobbi Brown Crystal lip gloss on the center of my bottom lip, then smudge for shine perfection.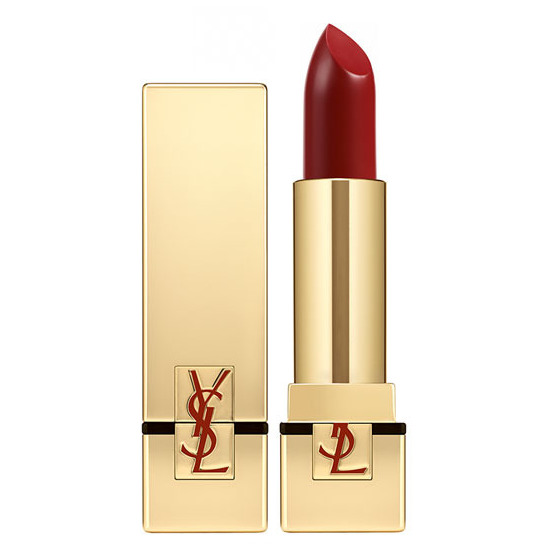 For Fair skin, try Yves Saint Laurent Rouge Pur Couture Lipstick in Rouge Feu.
$34 yslbeautyus.com
For Medium skin, try Model Co. Party Proof Lipstick - Matte in Purple Sangria.
$17 modelcocosmetics.com
For Dark skin, try Revlon Super Lustrous Lipstick in Va Va Violet.
$4.49 Target.com
Now that I've given you

Lipstick Life

, go out and kiss someone!!! Until next time, stay Snobby!